If you encounter any issues with a question, you can flag it from your Teacher or Student account and include a description.
Flagging questions in the system is better than describing it over live chat or e-mail because the specific question will be flagged so we can easily find it to fix the issue, and the request goes directly to the Content Team to address. Teacher's reports are given the highest priority.
Flag from your Teacher Account
When you browse any activity, you'll see a grey flag icon on each question. Click that to and provide the description of the problem: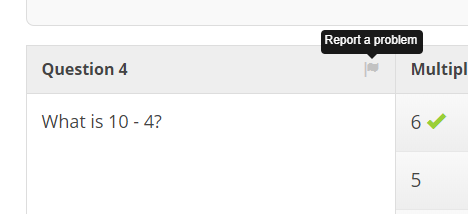 Flag from your Student Account
During gameplay, there will be a Report Problem button at the bottom. Click that and provide a description of the problem:

Thanks!