What is Knowledgehook?
Knowledgehook is a secure, online tool designed to provide useful information to help guide the next steps in instruction during the learning process. In that regard, getting questions right is not necessarily the goal but rather to better understand your child's thinking and to identify areas where they may need more support.
As a parent, you can connect to your child's account and be part of supporting that learning.

Connecting to your child's account
When you are connected to your child's account you can get valuable information to help support your child's learning in math including the following:
Tips on Supporting your Child
Upon signup, Knowledgehook will send tips on home-based practices to support learning in math that don't require technical mathematical skills.
Reports from Activities
Teachers can send home reports on questions your child covered in class. See Mission Reports and GameShow Reports for more information.
Educational Supports
Along with those reports, parents can view the questions and access any worked examples and tutorial videos available in the assigned content so they can go through it with their child. See an example
View the Student Portfolio (coming soon!)
They'll see the written solutions that their child has submitted in GameShows and Missions. See the portfolio

How to Connect to your Child's account
Your teacher can invite you either by sending you a code or by entering your email or phone number into the Parent Invite section of the program (here's how). Once you receive the invite you just need to follow the instructions to be connected.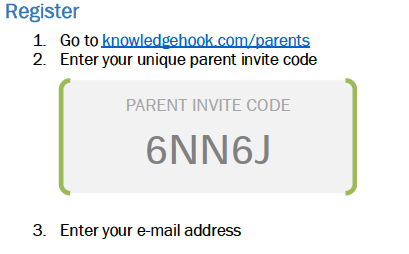 Please note: Updates are sent out via email or phone links. There is NOT a page that parents need to login into to receive the information.

Knowledgehook Parent App
See more of your child's progress through our new app available just for parents.